Under the background of global ban on plastics, environmental protection, and searching of bio-friendly resins, Poly lactic acid is currently the most competitive material.
---
SPECIFICATIONS
Physical Property
Poly lactic acid resin

P360

Test Standard

Density (g/cm3)

1.24

GB/T

1033-2008

Melting Index (g/10min) 190℃, 2.16kg

15±5

GB/T

3682-2000

Melting Point(℃)

165±3

GB/T

19466.3-2004

GT Temperature(℃)

61±2

GB/T

19466.2-2004
Mechanical Property
Poly lactic acid resin

P360

Test Standard




Tensile strength(MPa)




≥50

GB/T

1040-2006

Impact strength(KJ/m2) Izod

≥3

GB/T

1043-2008

Elongation at Break(%)

≥5

GB/T

1040-2006

Heat Resistant(℃)

HDT (amorphous)

HDT(crystallize)

\




\
---
APPLICATION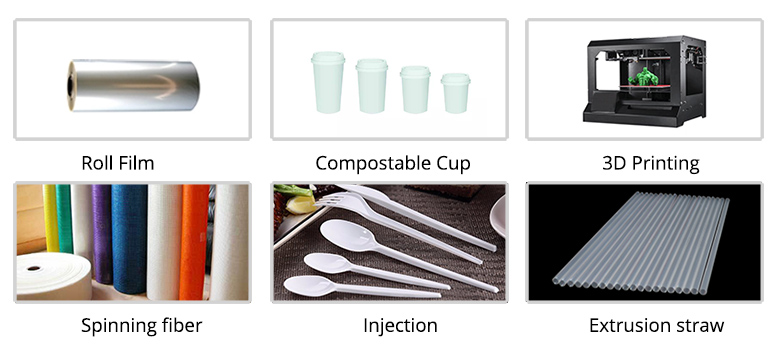 P360

Suggested

Application

Transparent injection

(Cold drinking cup)
---
WHY CHOOSE US
Professional technical team: senior PLA resin experts leading Asia in bio-based material technology.
Professional R&D team: specialized in the accurate development of bio-based material and products.
Professional after-sales team: able to solve any problems in the use of bio-based materials for over 10 years.
---
MATERIAL FEATURE
This is suit for various processing method. The heat resistance of products will increase to over 100℃after annealing.
More environmentally: 100% degradable and compostable in industrial compost processing.
More use: different series for extrusion, injection molding, spinning fiber, film or 3D printing.
---
MARKET ADVANTAGE
PLA lactic acid resin is a degradable material which is eligible to the development direction of global market and policy.
High acceptance: a acknowledged environmental-friendly material conform to different countries or regions.
High security: free from plasticizer, BPA of heavy metals.
High growth: hot in global market with a over 100% annual increase.