iSuo Chem® Alcohol soluble Rosin ester resin, we also call it as Maleic acid resin/Oil Soluble/Spirit Soluble rosin Resin, which can be dissolved in mixed solvent of toluene and alcohol or alcoholic solvent. It offers high gloss and fast drying.
SPECIFICATION
Type NO.

DT150

Color

Gardner, 50% benzene solution

8 max

Softening point

R&B, °C

150±10

Acid Value

mgKOH/g

185±10
---
APPLICATION

1. iSuo Chem® Rosin maleic resin can be used for co-solvent type of gravure printing ink, alcohol soluble intaglio printing ink, varnish and water-based ink.
2. iSuo Chem® Rosin maleic resin can be used for water-based systems when the alcohol solution is neutralized to PH7 by amine, then diluted to hydrotropic solution with purification water.
---
PACKAGING OF MALEIC RESIN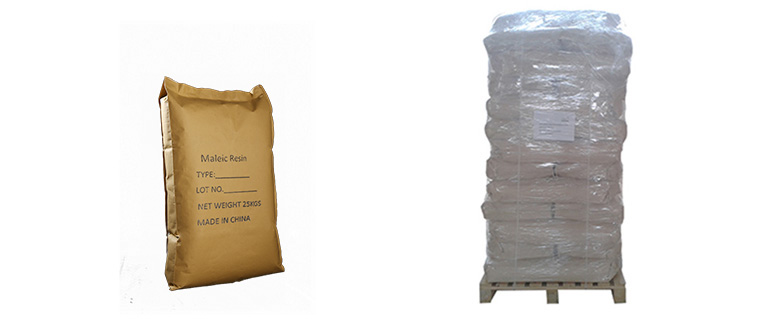 Maleic resin is packed in 25kgs craft paper bag, 18mts/20fcl without pallet or 16mts/20fcl with pallet.
---
STORAGE & TRANSPORTATION FOR MALEIC REIN
As Solid Rosin ester manufacturer, we suggest that Maleic acid resin should be stored in dry & ventilated warehouse. Don't store it in open air. Prevent sunshine & moisture. Avoid high temperature Avoid rain during transportation. It is not dangerous cargo.
---
RELATED RESINS