SPECIFICATION
Type NO.

DT110

DT130

DT150

Color

Gardner, 50% benzene solution

6 max

6 max

8 max

Softening point

R&B, °C

110±5

130±10

150±10

Acid Value

mgKOH/g

195±10

185±10

185±10
---
APPLICATION

1. iSuo Chem®maleic resin used for co-solvent type of gravure printing ink, alcohol soluble intaglio printing ink, varnish and water-based ink.
2. iSuo Chem®maleic resin can be used for water-based systems when the alcohol solution is neutralized to PH7 by amine, then diluted to hydrotropic solution with purification water.
---
PACKAGING OF MALEIC RESIN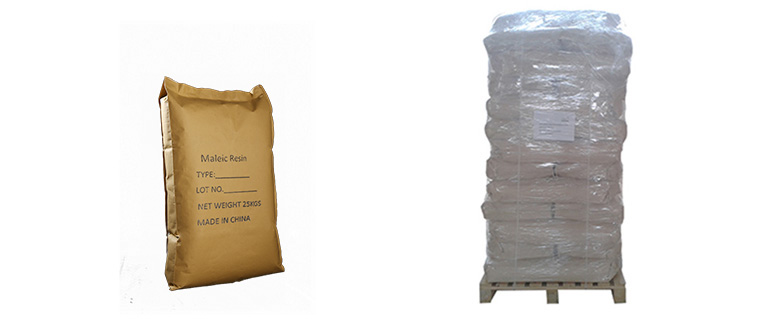 Maleic resin is packed in 25kgs craft paper bag, 18mts/20fcl without pallet or 16mts/20fcl with pallet.
---
STORAGE & TRANSPORTATION FOR MALEIC REIN
As Solid Maleic Acid Resin supplier, we suggest that Maleic acid resin should be stored in dry & ventilated warehouse. Don't store it in open air. Prevent sunshine & moisture. Avoid high temperature Avoid rain during transportation. It is not dangerous cargo.
---
RELATED RESINS