Flexographic Print, also known as "Aniline Ink", it's a direct letterpress rotary printing method, using a flexible raised image printing plate to provide a more flexible item
Macromolecule synthetic rubber or new photosensitive resin is the plate material. The printing plate can be glued to the printing plate cylinder of variable repeating length. The printing plate is applied by a metal ink roller (anilox roller) with engraved ink holes. The anilox transfer roller can be controlled by another ink roller or a doctor blade for offset printing\The gravure anilox transfer roller quantitatively and evenly transfers the required ink to the graphic part of the printing plate to ensure the short ink path of flexo printing Quality of ink transfer and distribution. Flexographic printing can transfer liquid or paste ink to the substrate.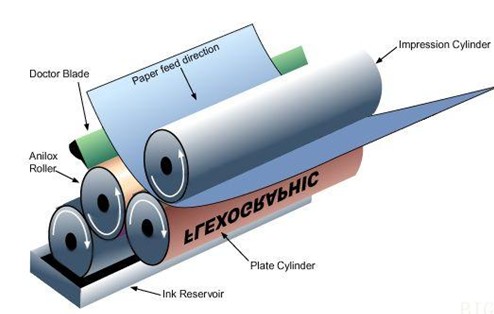 1. Current situation abroad
Flexographic printing technology is a new application subject. Compared with other printing methods, flexographic printing has the fastest development. The market share of letterpress printing and offset printing is gradually decreasing, while flexographic printing has been accelerating its development. Today, flexographic printing has leapt to second place. With the development of scientific and technological progress, flexographic printing will continue to accelerate its growth rate. It is expected that flexographic printing will go hand in hand with offset printing in the next 10 years.
2. Current domestic situation
my country's flexographic printing technology started late, and its development is relatively slow. In the early 1980s, simple flexographic printing presses were introduced from Hong Kong and Taiwan. With the continuous progress and improvement of foreign flexographic printing technology, in recent years, the domestic printing and packaging industry and the press have developed new ideas for flexographic printing. Awareness and needs. According to incomplete statistics, there are more than 150 high-end color flexographic production lines imported from the United States, Britain, and Germany, and some printing plants are still ordering. These equipments are mainly used for printing trademarks, labels, folding cartons, cigarette boxes, wine boxes, corrugated boxes, paper cups, liquid packaging boxes, business forms, etc. Flexographic printing shows strong vitality due to its short plate making cycle, wide printing substrate, low equipment investment, high economic efficiency, and the use of environmentally friendly water-based inks.