SUSPENDED SUPPLY! Dow and many other big factories were suddenly suspended due to force majeure! Chemical transportation has risen continuously for many times! Prices of various coating raw materials are rising soon!
Dow Sudden Force Majeure Suspension!
On May 3rd, Dow issued an emergency notice says that due to the accident of a supplier of upstream raw materials, its ability to supply key raw materials to Dow's business was interrupted. Affected by this, Dow's propylene glycol supply declared force majeure, recovery time will be notified later!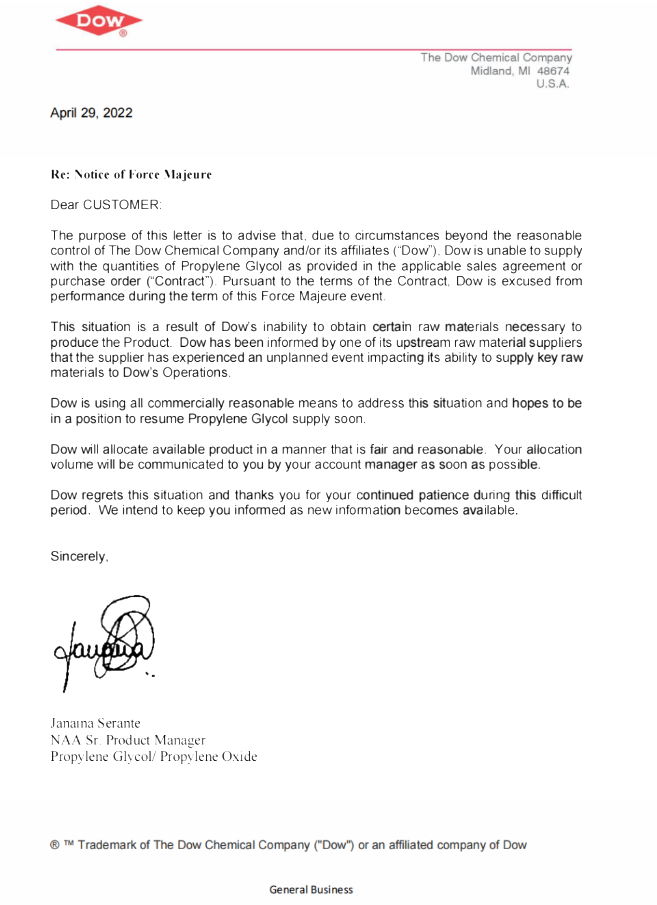 Recently, there have been many accidents among international giants. Just some time ago, the La Porte Complex, the third largest glacial acetic acid production base, revealed that it needs limited supply in case of force majeure.
The notice shows that the allocation is based on the average monthly purchases of customers over the past 6 months (October 2021-March 2022), which will be effective from May 1st, 2022. The news indicates that the above-mentioned raw materials will be supplied in limited quantities according to the previous purchases of customers.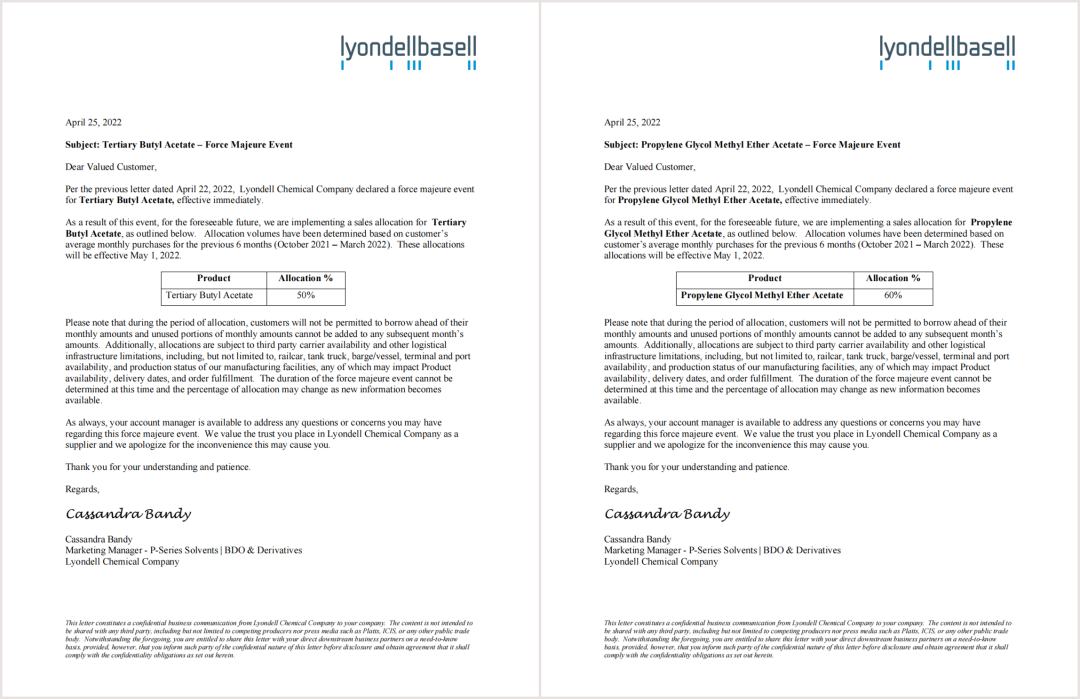 ExxonMobil declares force majeure on Russia project
ExxonMobil said its Russian subsidiary Exxon Neftegas has declared force majeure on operations at its Sakhalin-1 oil and gas project as sanctions on Russia make it increasingly difficult to ship crude to customers. The Sakhalin-1 project produces Sokol crude off the coast of Sakhalin in the Russian Far East and exports about 273,000 barrels per day, mainly to South Korea, as well as other destinations such as Japan, Australia, Thailand and the United States.
INEOS' 5 major factories declared delivery force majeure
INEOS said in a letter to customers that the company has experienced force majeure on all of its polyolefin products related to rail restrictions and expects to be required to limit rail transport to below its best average daily rate. The force majeure polyolefin products include a 318,000-ton/year high-density polyethylene (HDPE) unit at Cedar Bayou, Texas; a 439,000-ton/year polypropylene (PP) unit at Chocolate Bayou, Texas; 794,000 t/y high-density polyethylene (HDPE) unit at plant in DeerPark, Texas; 147,000 t/yr polypropylene (PP) unit at DeerPark, Texas plant; Carson, California 230,000 tons/year polystyrene (PS) plant.
China domestic aviation fuel surcharges have increased 6 times compared to the beginning of the year
In 2022, although the international oil price fluctuates, the overall trend will rise sharply, and the increase will hit a record high in seven years. On May 4, European Commission President von der Leyen said that the EU will completely ban oil imports from Russia within six months. As soon as the news of the ban on Russian oil imports was announced, international oil prices skyrocketed! On May 4, it rose nearly 4%, hitting a new high in more than two weeks. On May 5, U.S. oil was reported at $108.54/barrel, and on May 6, Brent oil was reported at $111.467/barrel.
Domestically, starting from 0:00 on April 29th, China domestic gasoline and diesel prices will increase by 205 yuan and 200 yuan per ton respectively. This is the seventh increase in refined oil prices this year. According to the estimated capacity of the 50-liter fuel tank of a general household car, filling a tank of No. 92 gasoline will cost 8 yuan more.
Global terminal congestion freight rates rise for consecutive 19 weeks, shipping giant Maersk earns 600 million per day
At the end of 2021, the spread of Omicron mutated virus will put pressure on the logistics supply chain, port congestion will continue to ferment, and freight rates will rise all the way up, and supply chain congestion has become the biggest driver of freight rate increases. By this year, the situation of global terminal congestion will continue, and some industry insiders pointed out that the situation of supply chain disorder is "no way to solve" in the short term.
A research report from China Securities also pointed out that as of March 20th, the total capacity of ships waiting at major ports around the world rose to a record high, and the increase in port congestion in China was one of the main reasons. Restrictions on truck movement in Qingdao, Shanghai, Shenzhen and other places affected by the epidemic have affected the efficiency of container pickup and delivery.
The World Containerized Composite Index (WCI) rose 2.1 percent this week, or about $204, to $9,817.72 per 40-foot container, 351 percent higher than the same week in 2020, data from shipping consultancy Drewry showed. This is the 19th consecutive week of gains.
Chemicals market rebounds up
With the accelerated resumption of work and production, logistics continued to improve, and the market mentality was boosted. The addition of post-holiday replenishment led to a rebound in market demand, and most of the domestic chemical products market rose after the May Day. According to the prices of 50 domestic bulk chemical products monitored by the Buy Chemical and Plastic Research Institute, in the first week of May, 33 products rose, 6 products fell, and 11 products remained flat; the top three products that increased were ethyl acetate ↑ 12.82%, acetic acid ↑12.00%, n-butanol ↑6.67%; the top three products with a decrease were butanone↓-2.22%, BDO↓-1.89%, and polymerized MDI↓-1.64%.
Solutions from iSuoChem
The price rise of basic raw materials brings challenges and opportunities to iSuoChem. iSuoChem has sufficient inventory of raw materials for special effect pigments, which can meet the requirements of three months production. iSuoChem has lower inventory of raw materials for resins, which may bring short-term price volatility. iSuoChem is committed to standing by our customers in the face of difficulties and doing everything possible to ensure emergency supply and price stability for our customers.