Previous: Road marking knowledge at a glance - Part 4
Here we continue to introduce the different types of road marking.
6. Other types road markings
Type

Cold tape

Components

Resin, Tio2, Glass beads, Pressure Sensitive Adhesive, filler

Appearance (normal temperature)

Solid.

Solid content

100%

Primer

Needed

Application Temperature

Ambient temperature

Application mode

Tamper roller

Visibility

Day

Good

Night

Good

Adhesion

Medium

Construct speed

Fast

Effect of glass bead

Good

Anti-dirty

Good

Wear resistance

Good

Service life

12 months

Security

No known negative environmental impact. Incombustible unless heated and exposed to open flame.
1) Cold Tape
Primary use: long lines, intersection, arrows, letters, symbols;
Application: manual or motorized tape applicator.
Thickness: 1mm
Advantage: easy apply, easy remove, easy to design, for temporary use. Good reflectivity.
Disadvantage: short life.
Cold tape application machine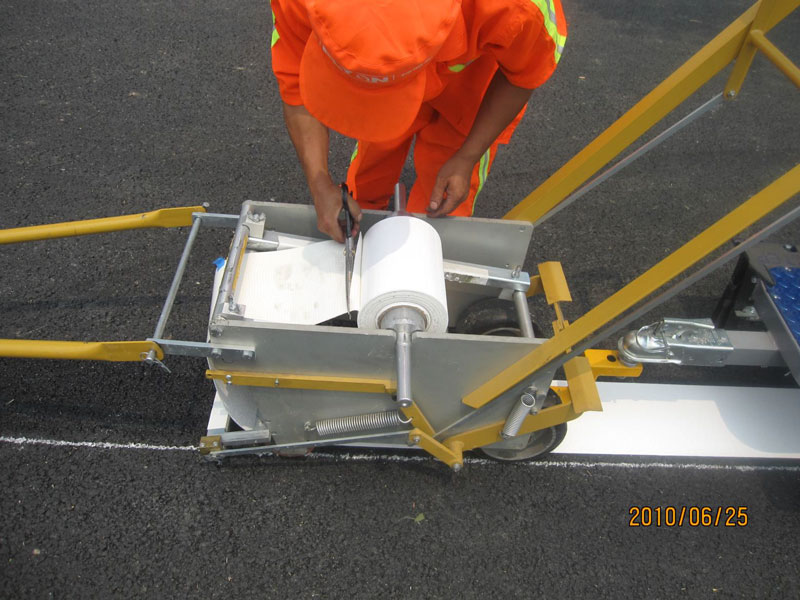 2)Polyurea based
Primary use: long lines, arrows, letters;
Application: truck, hand-liner, metal stencils, ribbon gun, etc.
Thickness: 0.38mm –0.64mm
Advantage: environment-friendly, anticorrosive, waterproof, abrasion proof, impact resistance, skid-proof; good flexibility, good weather-ability; good adhesion.
Disadvantage: high cost. Fewer supplier.

All of these are the common road markings in the market, hope these introductions can help you on the production or selection of road markings. ISUO Chem provides resins, pigments, glass beads and hot melt adhesive for road markings, if you more information, please feel free to contact us.